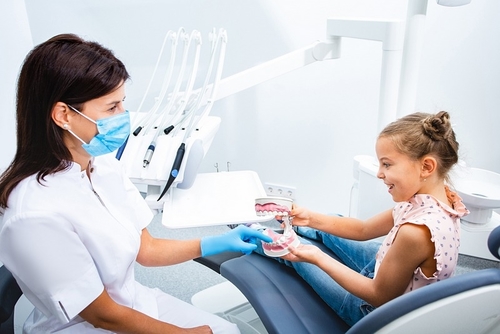 General dentists are capable of taking care of the majority of patients' oral health needs. However, there will be cases when the services of a dental specialist are required. When this happens, your dentist will refer you to a specialist who will take care of the problem before you return to routine care with your primary dentist.
Nearly 80% of all dentists in the U.S. are general dentists. A general dentist will most likely be your primary dental provider, who can handle everything from general exams and cleanings, orthodontics, endodontics, cosmetic dentistry, dental emergencies, restorative dentistry, and more — even sleep apnea!
Dental specialists are dentists who can handle focused areas in the dental field. Dental specialists complete the same educational requirements and training as general dentists, but also receive a DDS (Doctor of Dental Surgery) or DMD (Doctor of Dental Medicine) by continuing their training beyond dental school to concentrate on a specific area of dentistry.
Dentists usually refer patients to specialists when cases are complex or require specialized training and/or equipment. The most common dental specialists patients are referred to are:
Endodontists: A dentist who specializes in saving teeth through procedures involving the nerves and roots of teeth. Root canals be performed by general dentists but many will refer patients to an endodontist for treatment.
Periodontists: A dentist who specializes in the treatment and prevention of gum disease. Patients who are referred to a periodontist include those with moderate to severe periodontal disease.
Prosthodontists: A dentist who specializes in the treatment of complex dental and facial matters. Prosthodontists are recommended in cases involving the restoration or replacement of missing or damaged teeth with dental implants, crowns, bridges, dentures, etc.
Oral and maxillofacial surgeons: A dentist who is trained to recognize and treat diseases, injuries, and defects in the head, neck, face, and jaws. Removal of wisdom teeth are commonly referred to oral surgeons.
Orthodontists: A dentist who specializes in the diagnosis, prevention, and correction of misaligned teeth and bite patterns. General dentists can provide orthodontic treatment, but complex cases may require the expertise of an orthodontist.
Pediatric dentists (pedodontists): A dentist who specializes in the treatment of children. Pediatric dentists are recommended for younger patients who may need sedation due to fear or anxiety.
Maintaining good oral health is a key component of overall health and well-being and sometimes that requires the services of a dental specialist. General dentists work very closely with dental specialists when patients are referred to them for treatment so they can rest assured that they are in good hands. Don't be afraid to ask questions if you have any concerns!
Capital Dental Group is home to six general dentists while the Center for Implant Dentistry features four dental specialists and a board-certified anesthesiologist to cover a wide range of services, from general dentistry and orthodontics to dental implants, oral surgery, periodontics, and more — all under one roof! Whether you need the services of a general dentist or a dental specialist, don't delay. Schedule an appointment today!