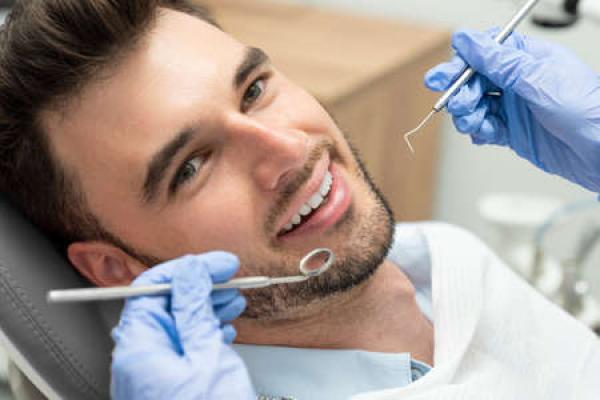 In the early days of the new year, many are looking to keep up with their resolutions. If you haven't been to the dentist in multiple years or not at all as an adult, perhaps you've resolved to have a checkup this year.
But with so many years away, it's hard to remember what dental appointments are like and, thus, what to expect, which can understandably make one anxious. So, if you are planning on going back to the dentist after a long time away, here's what to expect:
Paperwork
As a new patient at a practice, you're likely going to have to fill out a few forms — one with your information, perhaps one for insurance. It's a good idea to arrive a few minutes before your appointment time to ensure you'll have time to complete them. If the option to fill out paperwork ahead of your appointment is available, take advantage of it. It will save you time on the day of your appointment.
Cleaning
Even if you brush and floss every day, plaque buildup will still occur. That's why it's important to schedule hygiene appointments every six months. If it's been a while since your last dental visit, a thorough cleaning is likely in order. Using specialized tools, a dental hygienist will remove plaque and tartar buildup off your teeth and gumline, floss between your teeth, then polish your teeth. Later, the dentist will come in to thoroughly examine each tooth for any issues.
X-Rays
Since this will be your first appointment in quite some time, the dentist is likely going to want an X-ray for a more complete look at your oral health. This will allow them to observe issues in the jaw, mouth, gums, and supporting bond structures, if there are any, creating the opportunity to start down the path of treatment.
A Follow-Up Appointment
Before you leave, you'll likely be asked to schedule a follow-up appointment six months later — maybe sooner depending on your current oral health condition. The dentist will also suggest that you continue to come in every six months for regular appointments. This is advice you should heed. While you may brush and floss a healthy amount and take care of your teeth to the best of your ability, only a dentist will be able to diagnose cavities and other oral health issues before they get too advanced. And it's worth remembering that oral health issues can lead to other health problems, such as diabetes, stroke, and heart attack.
If you're looking to get back into the habit of going to the dentist, consider Capital Dental Group in Bakersfield, CA. We provide a wide variety of dental services, from general exams and cleanings to orthodontics, dental implants, oral surgery, sleep apnea treatment, and more under one roof seven days a week. We also offer in-house financing and a Membership Club for those without dental insurance! Call 661-861-8000 to schedule your appointment today!